Deep cleaning, AKA spring cleaning or seasonal cleaning, is the occasionally-necessary above-and-beyond cleaning service that most people never think to do.  This is something of a catch-all term that can refer to things like dusting hard-to-reach surfaces or scheduling extra services like disinfection or carpet cleaning to take place all in one go.
Most often, this type of cleaning takes place either at property milestones (such as changing tenants in a long-term rental unit) or based on a regular schedule (such as annual "spring cleaning").  These present opportunities for all the little details that don't get attended to often, such as cleaning under and behind difficult-to-move furniture.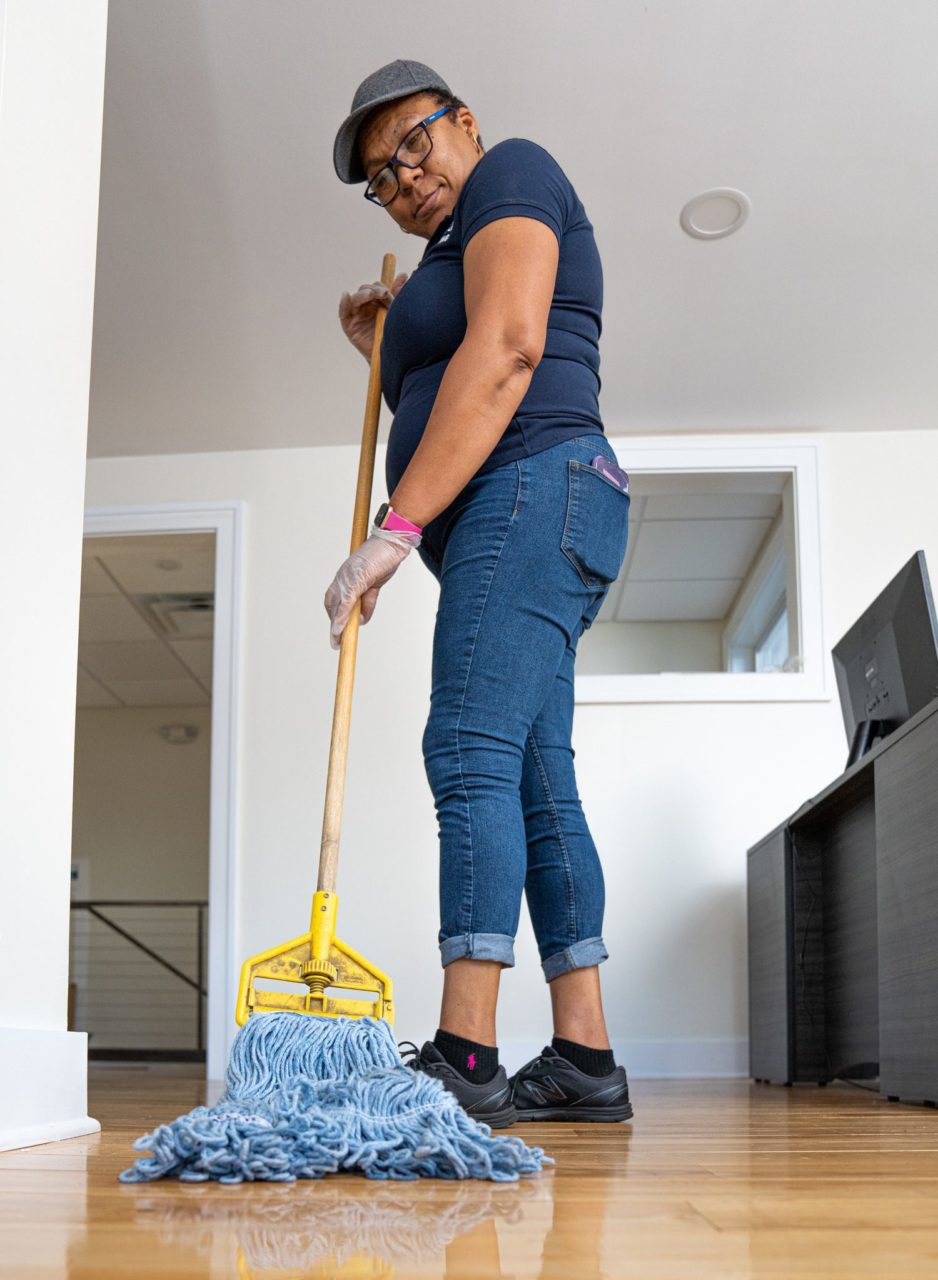 Why Choose Brenda's Best?
With our prioritization of customer service, we make deep cleaning services available after hours and on weekends to make sure this process doesn't interfere with your work.  We can also build these services into your contract, spreading out occasional or "periodic" cleaning service costs over the life of your contract.  We're also flexible, so if you need to add or skip a deep cleaning, we will find a way to accommodate your changing needs.
Why is Deep Cleaning Important?
Deep cleaning is important for maintaining the less visible aspects of your property or workspace.  Regular deep cleaning can prevent factors like dust and pollen accumulation from getting out of hand in the areas of your space that are the most challenging to clean.
This is also, ultimately, a cost-saving measure.  By not scheduling these small details for attention during every regular cleaning, you save on cleaning costs. Then, by getting deep cleanings, you achieve a completely clean environment.
By contrast, regular office cleanings cover the basic necessities that affect you every day.  In this way, seasonal and regular cleaning are achieving entirely different objectives using very similar means.
Do I Need Annual, Seasonal, or Monthly Deep Cleaning?
As with most cleaning services, the frequency with which you need deep cleaning depends on your business, environment, and needs.  Most office spaces benefit from a couple of major cleanings a year, but spaces like event centers sometimes need monthly full cleanings due to their high-traffic nature and exacting clientele. 
Meanwhile, spaces that see little or no public access and are relatively low priority, such as maintenance areas, might reasonably go one or more years without needing a detail-oriented complete cleaning.
What is Covered By a Deep Cleaning?
We customize our services to clients' needs.  So the short answer is that a deep cleaning includes whatever you need it to.  That said, there are some very common tasks that apply to most properties and situations.
Dusting every room from top to bottom, including walls, ceiling fans, vents, door frames, molding, and baseboards

Sweeping and/or deeply vacuuming floors

Mopping floors over until the water comes out clear

Generally deep cleaning floors

Scrubbing grout and crevices in bathroom and kitchen areas

Sanitizing all bathroom fixtures & surfaces

Cleaning desks, including moving light items to ensure as much of the desk area is cleaned as possible

Cleaning all exterior, non-screen sections of computers

Sanitizing desk phones, door knobs, and other high touch point areas

Cleaning Microwaves in break areas

Wiping down all shelves and cabinets

Cleaning the interiors of any refrigerators

Taking down and washing or shaking out curtains

Cleaning TV screens

Cleaning upholstery on couches and chairs