Commercial Window Cleaning
Nothing displays your business's wares and prosperity better than clean windows that let the light in unimpeded.  Plus, if your windows are dirty, you're not getting good utilization out of a feature of your building that you are no doubt paying for.  Windows are expensive to install and maintain and can raise your heating costs, so making sure they're worth the cost and hassle is essential.
Whether you want your front window displays to gleam or you just want to keep your employees happy with clear, natural sunlight fueling them, commercial window cleaning is a great solution to age-old problems: smudges, dust, pollen, water spots, grime, dirt, and anything else that obstructs your beautiful windows.
Read More
At Brenda's Best Cleaning, we offer cleaning for the first and second floors of your commercial property as either a part of your regular contract or as a one-off service. For second-floor window exteriors, we sometimes work with partner companies with specialized equipment for that type of work.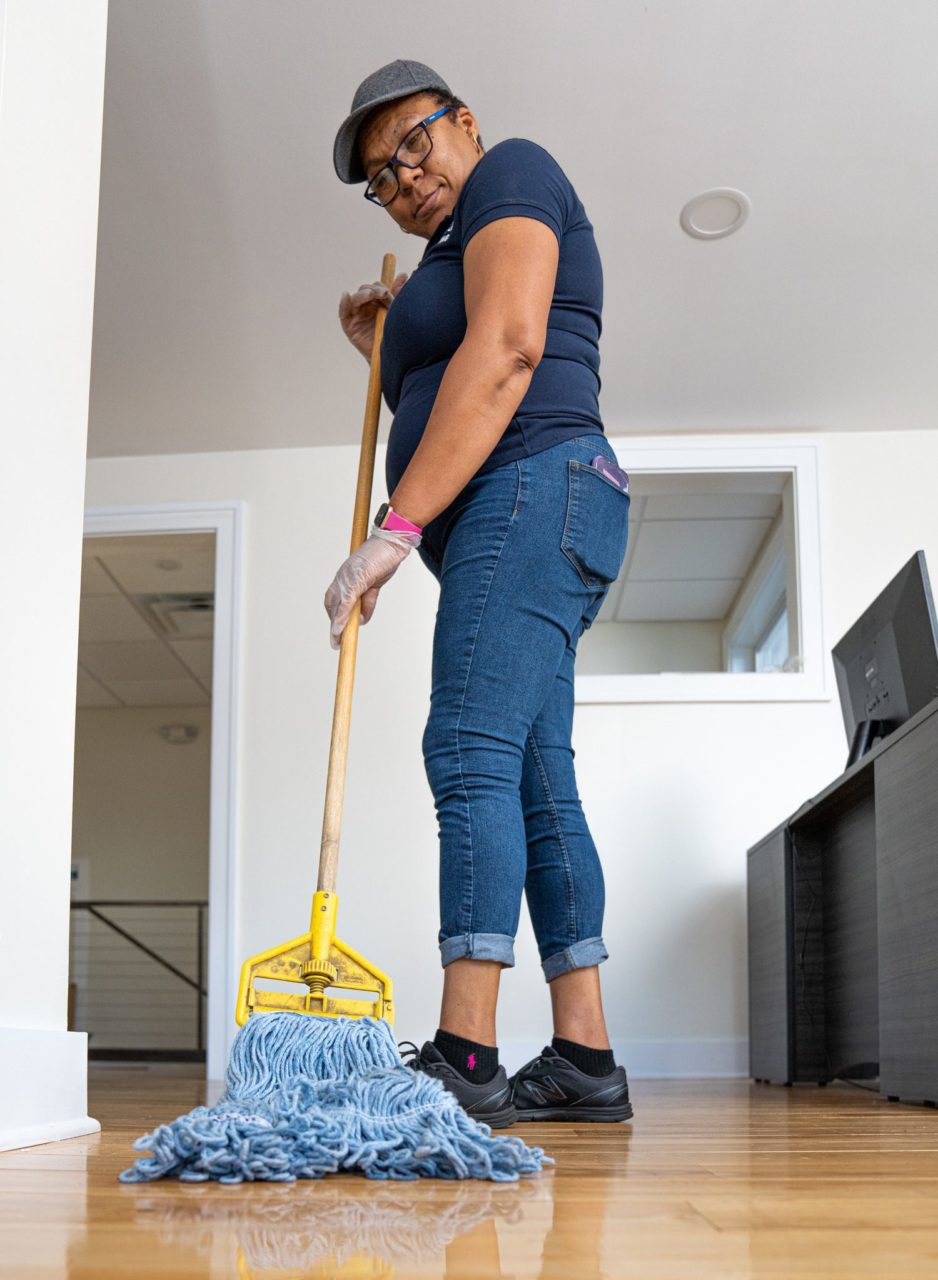 Why Choose Brenda's Best Cleaning For Window Cleaning?
With our prioritization of customer service, we make window cleaning services available after hours and on weekends to make sure the process doesn't interfere with your work. We can also build window cleanings to your contract, spreading out occasional or "periodical" cleaning service costs over the life of your contract. We're also flexible, so if you need to add or skip a window cleaning, we will find a way to accommodate your changing needs.
How Is Commercial Window Cleaning Different?
If you've cleaned your windows at home, you probably used a famous blue ammonia-based cleaner, stinking up your home and potentially damaging your windowsills. Maybe you opted to spray them down from the outside with your hose, resulting in less dirt but more water spots. Commercial cleaning is different.
We use more effective cleaning chemicals in smaller quantities and squeegees that use simple physics to get every last drop of water off your window panes, preventing those nasty water spots that often plague windows. This makes cleaning your windows faster and more effective, saving time and keeping your business as presentable as possible.
How Often Should I Get Commercial Window Cleaning?
This depends on the types of windows you have (display, double hung, sliding, etc.) and how your environment affects your windows.  In a dry and dusty quarry, there's almost no point in cleaning windows because the next rainstorm will cake your windows in muck.  If you have a retail shop on Main street, your display window might need a professional cleaning every week, or yet more often, to keep up a high standard of cleanliness and transparency.  Meanwhile, an office building might need its windows cleaned seasonally or a couple of times a year to maintain respectability and employee morale.
Ultimately, it's up to you and your standards how often you need window cleaning services.  We can then adapt your contract to include window cleanings based on your real-world needs.